Svaneke Bryghus is a 100% organic brewery. As one of the first microbreweries to open in Denmark, Svaneke Bryghus on Bornholm is today widely known for its authentic taste, sustainable production methods and wide range of craft beers.
info

Known for its beautiful landscapes, sunny weather and local delicacies and food producers, the small, rocky island of Bornholm is also the home of one of Denmark's first microbreweries. Founded by a local beer enthusiast in 2000, Svaneke brewery and restaurant has developed into a successful local enterprise. But the original respect for and connection to the craft are still intact.

All beer is brewed locally in Svaneke with the finest organic raw materials and the splendid water from eastern Bornholm, which in 2019 was chosen as Denmark's best drinking water. The water therefore is left untreated for the brewing process. Time is also cardinal, as cold long-term maturation gives just the right balance and finish to Svaneke beers.

In the experienced hands of our brew master, Svaneke Bryghus produces around 1.7 million liters of beer a year, including several non-alcoholic brews and a gluten free beer. 30 per cent of the production is powered by nature with solar panels, and the surrounding environment also acts as a major source of inspiration in the development of new tastes and products. Since the beginning of 2018, the brewery is 100% organic, and after commissioning of a CO2-recovery plant by the end of 2020, our beer production is now also CO2-neutral – verified by Force Technology.

Svaneke beers are sold all over Denmark and the rest of the North, but to taste the full range of beers, you will have to visit the brewery's home in Svaneke on Bornholm.

Great beer takes time. Enjoy it.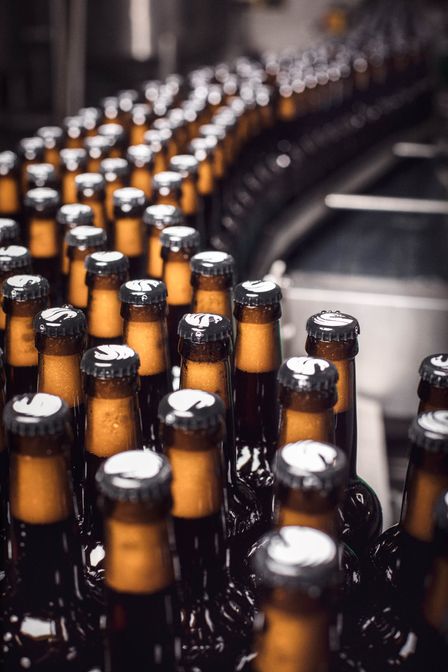 we don't rush our beer
On Bornholm we take our time. Svaneke's brewmaster finds his inspiration from the surroundings of Bornholm and is constantly crafting something new. Svaneke beer is always unfiltered and brewed with the philosophy that one can create exquisite flavor profiles with just a few carefully selected components – and time plays a crucial role in this process. We don't rush our beer; instead, we let time work its magic. The brewmaster carefully monitors the beer, aiming for a perfect flavor balance, and nothing leaves the brewery without his approval. In general our beer matures for 5-8 weeks. We call it "slow beer."